On the hunt for the cheapest email marketing software to run your campaigns without needing to take out a second mortgage?
The price tag on AWeber, ConvertKit, or ActiveCampaign too high?
In this post, we're going to introduce six of the most affordable email marketing software options you can find. We'll explore what makes each one unique, and help you settle on the best solution for your business. Let's dive right in!
Here's our lineup of the best tools for cheap email marketing:
1. Sendinblue (www.sendinblue.com)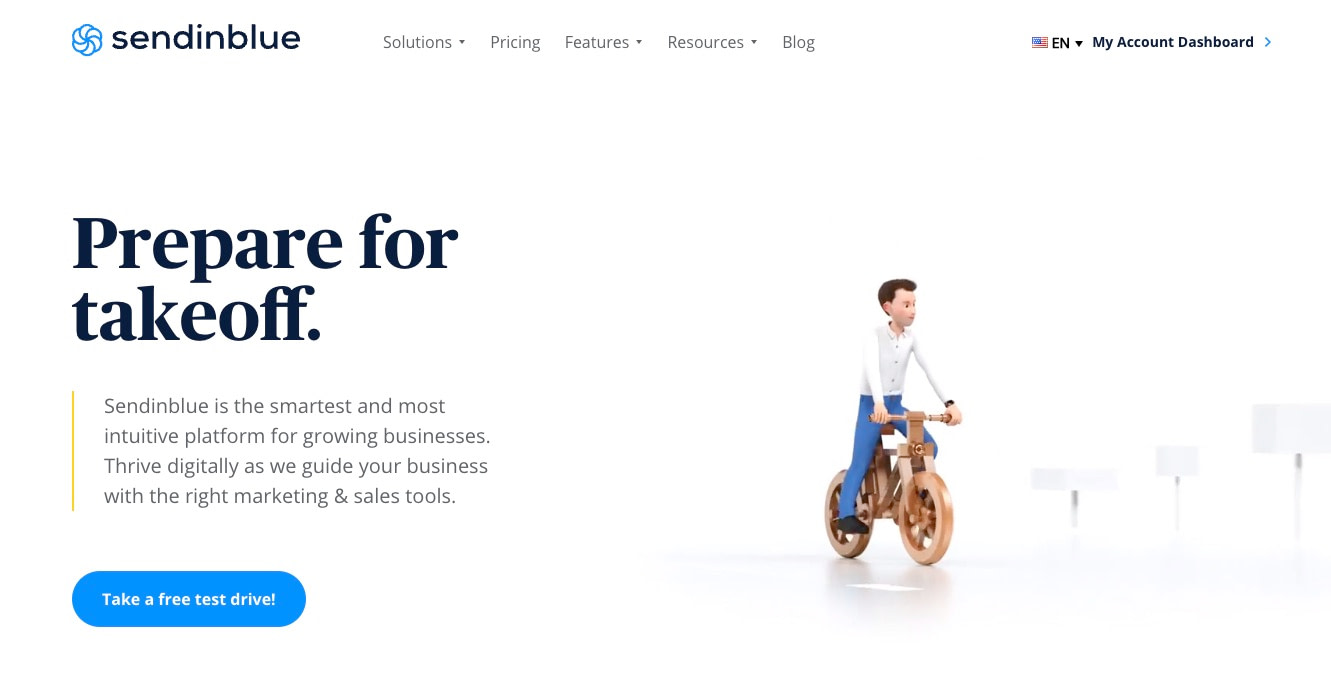 First up, Sendinblue is a fairly well-known name in the email marketing space. This is a full-featured email marketing platform offering a range of tools to help you create, send, and optimize your email campaigns.
It also comes with a generous free tier, along with several affordably-priced monthly plans to choose from. These are some of the reasons marketers call it the ultimate alternative to Mailchimp or GetResponse.
Key features
Create and customize emails quickly, using a drag-and-drop editor or use pre-built templates
Add the perfect opt-in form to your site, via some handy form builder tools with custom fields
Benefit from various email marketing automation options, including autoresponders (drip campaigns) and eight workflow templates you can use to set up campaigns fast
Set up list segmentation and manage your subscriber data through a CRM (and sync your contacts with HubSpot)
Track each campaign's metrics with analytics tools
Set up your email campaigns with A/B testing
Use Sendinblue's landing page builder
Add SMS messaging and transactional emails to the mix
A detailed WordPress plugin that lets you handle everything from the comfy confines of your WordPress dashboard
Sendinblue pricing
For the budget-conscious, Sendinblue offers a useful free tier. It includes all the platform's key features and lets you add unlimited contacts to your list. The only restriction is a limit of 300 emails sent per day.
If you need to surpass that daily send limit, the paid plans start from just $25 per month (the Lite plan).
Sendinblue is a good option if…
As one of the cheapest email marketing software options, Sendinblue's key selling point is its scalability. If you're looking to try out an email campaign or two without investing a ton of resources, you can start out on the free plan and work your way up as needed. Plus, the fact that you can service an unlimited number of subscribers is awesome.
This service also makes email marketing a very streamlined affair, with many templates and workflows to help get you up and running in a flash. The deliverability rates are also great across the board for different campaign sizes.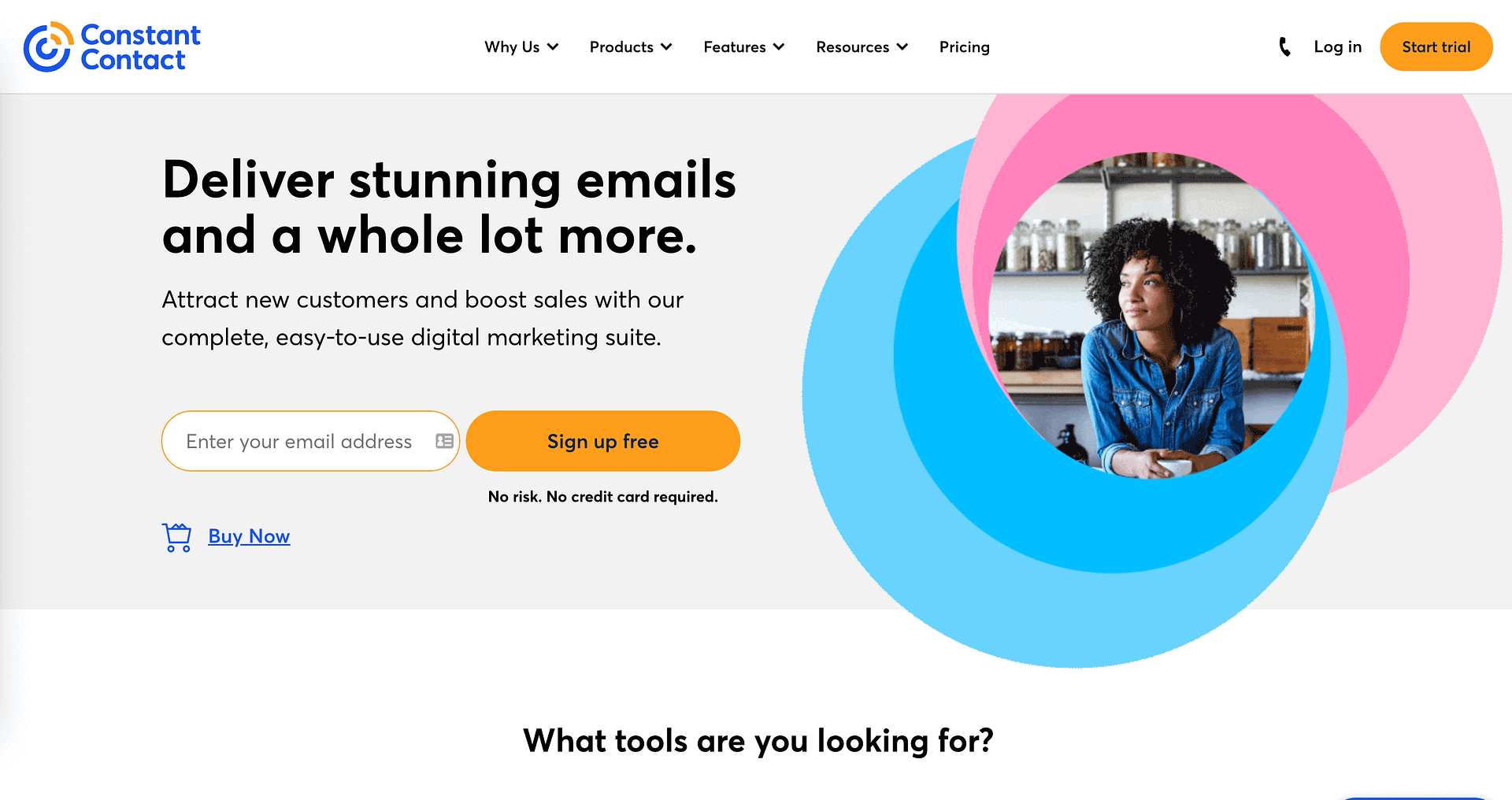 Next, on our featured list, is another household name in email marketing: Constant Contact.
This email marketing provider has been in the game since the mid-90s. That makes them even older than Google!
Anyone who's been around that long and is still here as a market leader has to be doing it right, and Constant Contact most certainly is.
That's not just an opinion. It's backed by some cold, hard data. To be more specific, they proudly boast a 97% email delivery rate, which is crucially important if you want the emails you send to wind up in the inboxes of the people you send them to.
The crazy thing is that it also comes with a generous free trial, and a very competitively-priced entry level plan after that.
Key features
Sign-up forms to grow your list
Integrations with popular tools like Shopify, WooCommerce, Canva and Etsy
Hundreds of email templates
Engagement reporting (e.g. – views, clicks, etc)
Post to Facebook, Instagram and Twitter simultaneously
Award-winning live chat and phone support
30-day money back guarantee
Free trial for 60 days with no credit card required for activation
Discounted pricing for nonprofit organizations (if you pre-pay for at least six months)
Constant Contact pricing
As mentioned above, Constant Contact starts you off with a highly generous 60 day period where you can use their email marketing tools and services completely free-of-charge.
Assuming you fall in love with it and wish to continue using it, you'll be pleased to know that their entry level paid plan isn't going to break the bank either.
At a highly affordable price of $9.99, it earns its rightful place on this list of cheapest email marketing services. For that monthly amount, you'll be able to manage an email list of up to 500 people.
Once you go above that, you'll be bumped into their next pricing tier, which is capped at 2,500 people. That's five times the amount of email recipients as the entry level plan, but they won't charge you five times more.
That not only makes them a cheap email marketing provider – but as stated previously – it makes them a very generous one.
Constant Contact is a good option if…
You're just getting started with email marketing and you want to test the waters without feeling like you are being rushed to buy. They have a ridiculously easy-to-use email editor and hundreds of pre-designed templates.
This means that even if you're not particularly tech-savvy, you won't have a hard time using their interface. You'll be able to do what you need to do and get back to the other aspects of running your business.
If you ever get stuck, their customer service department is also very friendly and helpful and they'll get you back on track in no time.
3. Cakemail (www.cakemail.com)
For small business owners, it can be smart to look for an affordable email marketing tool designed for companies just like yours. That's what Cakemail is – a tool built with the needs of small businesses firmly in mind.
It provides some useful time-saving features and is one of the cheapest email marketing software choices out there.
Key features
Build email newsletters quickly, by making a few simple customizations to professional templates
Create and reuse your own templates, and add in your business' branding
Divide your email list into targeted groups, and send different messages to each
Cakemail pricing
Cakemail offers a number of pricing tiers, which vary based on how many contacts you want on your list.
The cheapest plan includes up to 500 contacts for only $8 per month, and the next tier up allows for up to 1,000 contacts at $12 per month.
Each plan lets you send an unlimited number of emails and includes all of the platform's features. There's also a free 30-day trial if you just want to give the service a test run.
Cakemail is a good option if…
If you're looking for a simple and streamlined option, Cakemail can be an excellent choice.
While it lacks some of the email automation features more elaborate services offer, it makes managing your list and creating email campaigns simple and painless.
It's a solid option for small businesses that don't need advanced features for lead generation, but only want to pick recipients, add subject lines, write their message, and hit send.
4. MailerLite (www.mailerlite.com)
While MailerLite is one of the cheapest email marketing software tools you can find, it still manages to offer a comprehensive package. This service helps you through every step of your email marketing campaigns, including building and sending emails, and designing landing pages for interested recipients.
Key features
Design emails using an intuitive drag-and-drop email builder that requires no coding experience
Gather subscribers through different types of signup forms, landing pages, or on social media
Automate your email campaigns, and create customized workflows
Track your engagement, open rates, click-through rates, and unsubscribes using easy-to-understand analytics reports in real-time
Easily build pop-ups and landing pages to gather subscribers and turn them into customers ready to take out their credit cards
MailerLite pricing
When it comes to cost, MailerLite keeps things simple. All of its plans include the same feature set and permit unlimited emails per month.
The only difference between tiers is how many subscribers you can have.
The free plan lets you have up to 1,000 subscribers, and send up to 12,000 emails per month. The next tier up, keeps you at the same 1,000 subscribers, but removes the 12K email limit and leaves it completely unlimited. It also offers access to three users, versus just the one user on the free plan. You get all of that for a mere $9.00 per month.
MailerLite is a good option if…
All in all, MailerLite is one of the best and most well-rounded options available.
It provides plenty of help creating your emails, managing your list, and automating your campaigns, while keeping the cost low. There are also email marketing webinars to educate you on some aspects of the trade.
In addition, it's a particularly strong choice if you're also looking for a tool to help you design pop-ups on your site to attract subscribers, as well as landing pages where you can send those who open your emails. This makes it a great option for bloggers.
5. SendGrid (sendgrid.com)
Some of the tools we've introduced so far focus on making email marketing a streamlined and simple process.
SendGrid, on the other hand, is ideal if you're looking to get as much control over the process as possible. It permits a lot of customization and tweaking, both in your individual emails and your campaigns as a whole.
Key features
Create emails using a drag-and-drop email editor, pure HTML, or a combination of the two
Select from a library of responsive email templates
Build customized campaigns and workflows, and use it as your marketing automation tool
Segment your list, personalize emails, and do your list management effectively
Send your ecommerce emails through SendGrid (WooCommerce, Shopify, Salesforce, etc.)
Perform tests and measure analytics, in order to perfect your future campaigns
SendGrid pricing
If you just want to give SendGrid a try, there's a free plan that includes most of the primary features. However, this plan is a bit limited when it comes to the sending allowance of only 100 emails per day. The next tier pro plan is $19.95 per month, and that lets you send up to monthly 50,000 emails. On the far end of the spectrum there are also enterprise plans available (if you're looking for those, you can also check out Mailjet).
SendGrid is a good option if…
While SendGrid is one of the cheapest email marketing software tools, it can still get pricey if you find yourself sending a massive amount of emails every month.
However, it's ideal for smaller businesses and startups that don't need to send a lot of emails but do want access to a ton of features and customization options. SendGrid also offers a custom API and good customer support, making it a solid choice for developers.
6. Sendy (sendy.co)
Last but not least, let's look at an option that's quite different from our previous email marketing service providers. Most cheap email marketing solutions, including all five on this list so far, are "software as a service" (SaaS) tools that require you to pay a monthly fee for as long as you want to use the service.
Sendy, on the other hand, is a self-hosted application that you can install on your own server (much like WordPress). It then lets you send emails using Amazon's cloud-based Simple Email Service (SES).
Key features
Send unlimited emails through Amazon SES
Set up automated emails, which will send in response to specific triggers
Segment your subscriber list, and send targeted emails to particular audiences
Store custom information about your subscribers, and use it to personalize messages as needed
View detailed analytics reports on your campaign metrics
Sendy pricing
To purchase the Sendy software, you'll pay a one-time price of $69. After that, there are no ongoing fees to use the Sendy software.
However, to deliver the emails from Sendy, you'll also need to sign up for the Amazon SES service. This service is still quite cheap, costing just $1 per 10,000 emails that you send.
Sendy is a good option if…
Over the long term, Sendy is the cheapest email marketing software on our list, which makes it the best budget-conscious choice, especially if you need to send bulk emails.
It also offers a great deal of control and flexibility, since you can use the software however you like, and you aren't beholden to a particular service.
However, this is the least beginner-friendly option and can take a little work to get up and running. Therefore, you may need someone on hand with the technical skills to get Sendy off the ground.
Final thoughts on the cheapest of the best email marketing services
Email marketing is important, but that doesn't mean it has to cost a lot of money.
If you're looking for the cheapest and best email marketing software (that still provides the features you need), these are our final recommendations on where to start:
⭐ best overall Sendinblue: This fully-featured solution offers a number of flexible pricing tiers and lots of functionality.
💸 cheapest Sendy: For a one-time fee, you can install the Sendy software on your own server and then affordably deliver emails via Amazon SES.
🥈 MailerLite: With this platform, you get a well-rounded balance of key features and low pricing. A good alternative to Sendinblue.
Do you have any questions that would help you decide between these various tools? Let us know in the comments!
Free guide
5 Essential Tips to Speed Up
Your WordPress Site
Reduce your loading time by even 50-80%
just by following simple tips.
Download free guide
* This post contains affiliate links, which means that if you click on one of the product links and then purchase the product, we'll receive a small fee. No worries though, you'll still pay the standard amount so there's no cost on your part.